Attention all adventure-seekers and foodies! Rachel Kawate recently took a weekend getaway from Chicago to Kalamazoo, and she's spilling all the deets. Get inspired with her itinerary of hiking trails, farm-to-table eats, and DIY activities. Follow her lead and plan your own trip today!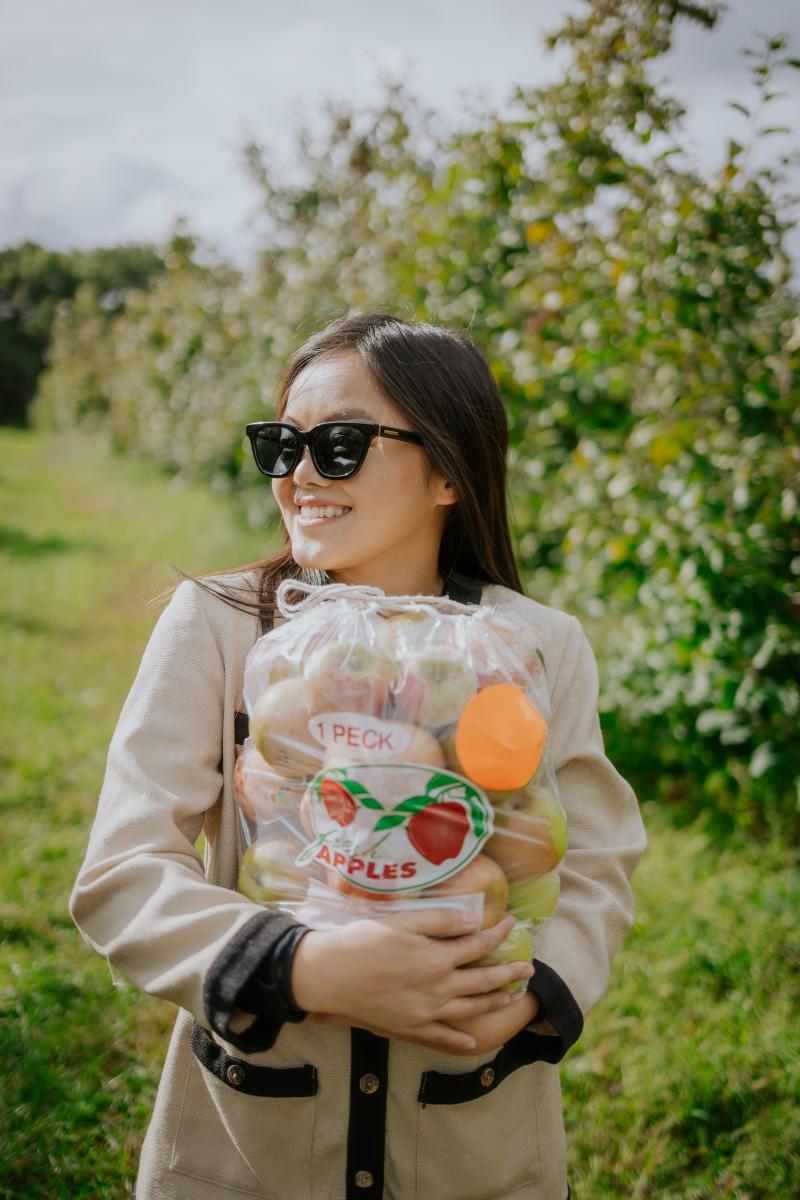 Kalamazoo is a mid-sized city with small-town charm and a gastronomic, entertainment, and art culture that could rival even the largest cities! Simply put, Kalamazoo punches well above its weight class in fun while maintaining that local Michigan charm.
On our first night in the city, we ate at the wonderful restaurant Zooroona. The manager took time out of his busy night to welcome us to Kalamazoo and spent time chatting with us, making us feel right at home! He described Kalamazoo as a smaller city with a truly metropolitan atmosphere and many fun activities for all ages. We completely agree with his statement, and with Kalamazoo being only 2 hours from Chicago and 2 hours from Detroit, we believe it is situated perfectly for visitors who would like to escape the large cities for the weekend.
Where to Eat and Drink
Kalamazoo has many fantastic restaurants, and we love how diverse the dining options are from local staples to delicious global fare!
ZOOROONA
As previously mentioned, our first stop in Kalamazoo was at Zooroona, which is an incredible Mediterranean restaurant. We absolutely loved the interior design and the excellent seating made our time there feel very special. We ordered the House Tray, which included Falafel, Beef Borek, Dolmeh, Chicken Kafta Kabob, Beef & Lamb Kafta Kabob, Beef Shawermah, Chicken Shawermah, and an appetizer of choice. We were surprised to see how much food came with the platter and everything was delicious!
FACTORY COFFEE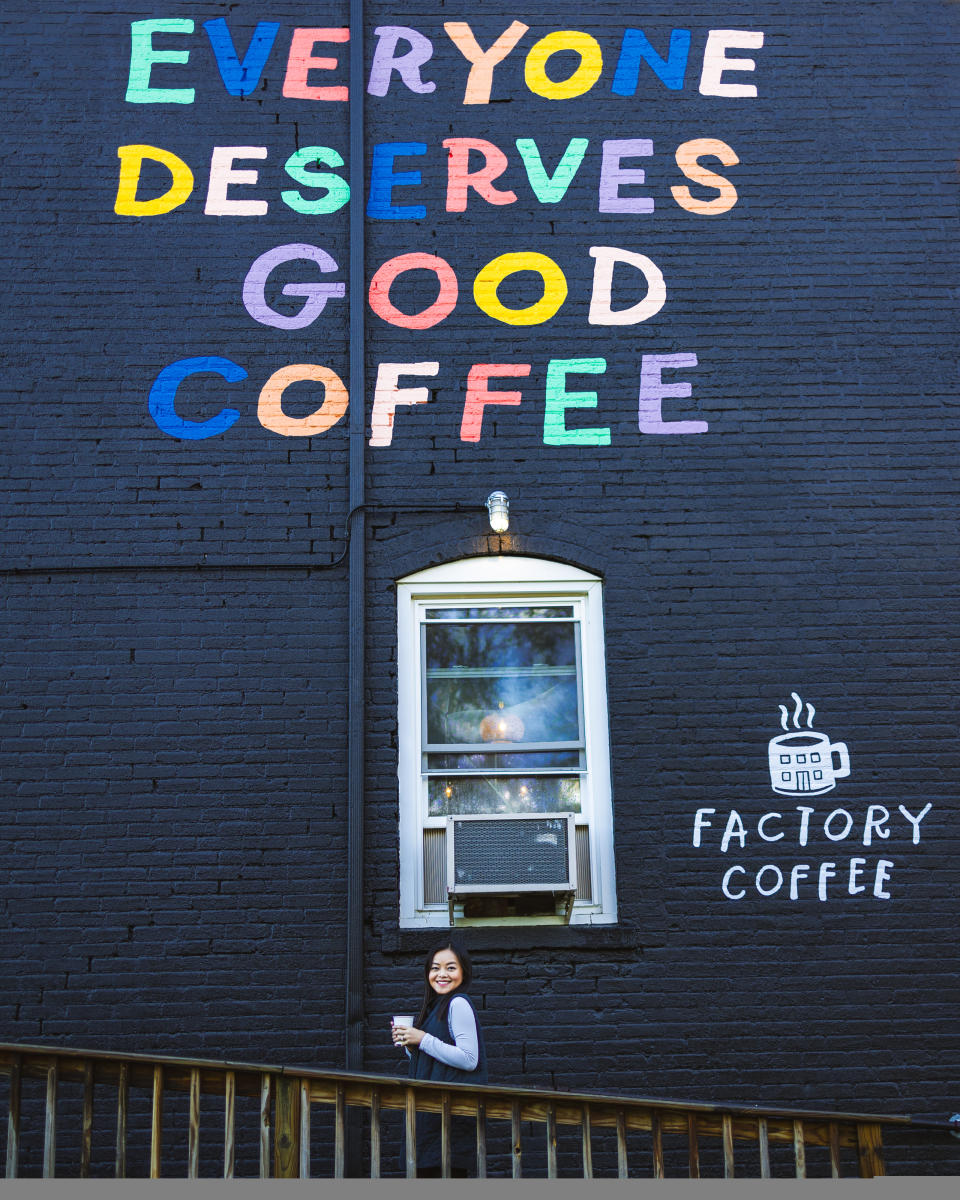 The next day, we started our morning at Factory Coffee, which has a rustic industrial aesthetic and killer coffee! We didn't just love their coffee…we also love their commitment to sustainability, inclusivity, art, and community. We highly recommend stopping by to grab some coffee!
JUNGLEBIRD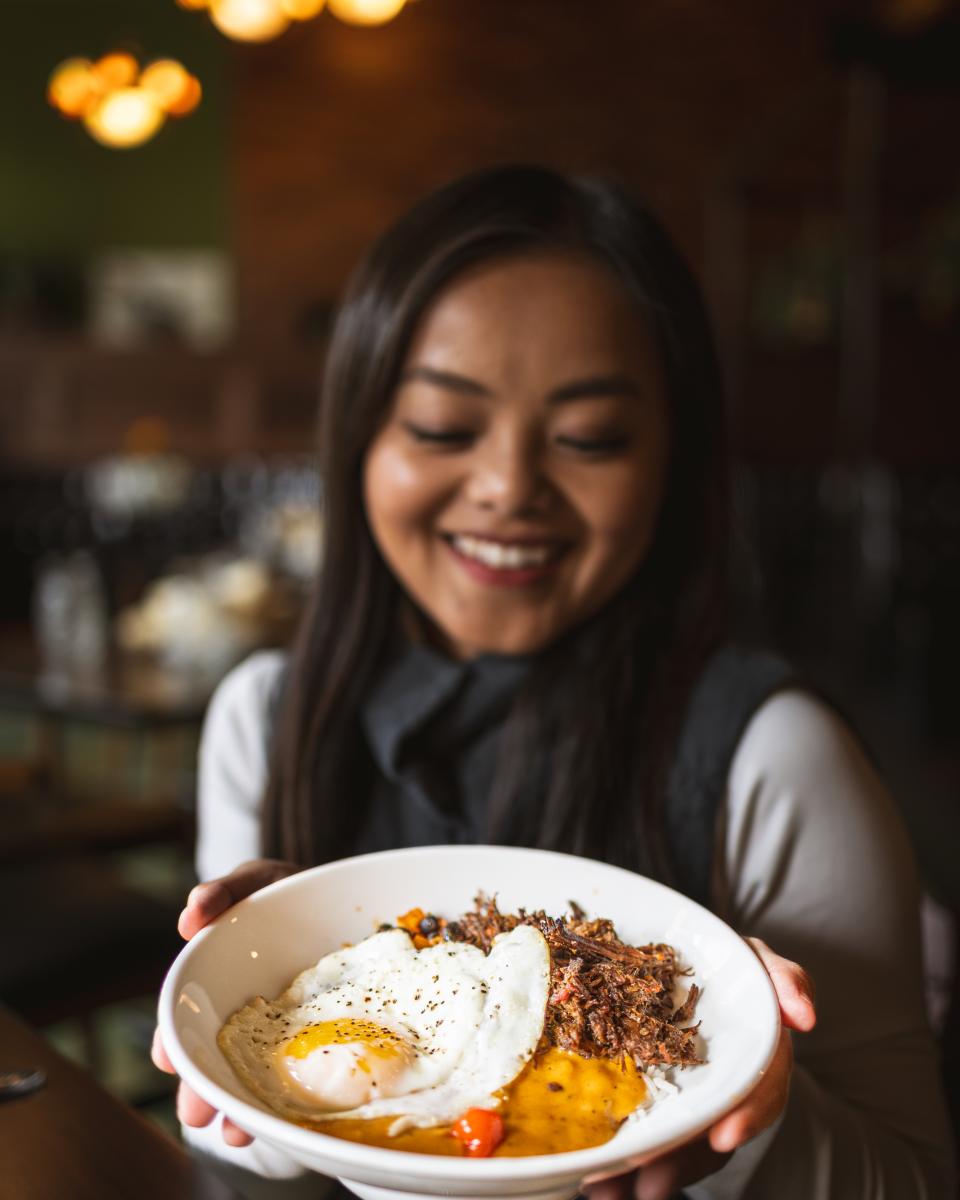 After Factory Coffee, we went downtown to eat brunch at JungleBird, a Caribbean and Miami-inspired eatery. We ordered the Breakfast Bowl, which consisted of Ropa Vieja on top of Rice, Queso Roja, black beans, roasted corn pico, and a fried egg. We also ordered the Jamaican Jerk Chicken and Waffles. These two dishes were extremely flavorful, and their homemade hot sauce put this meal over the top!
COVE LAKESIDE BISTRO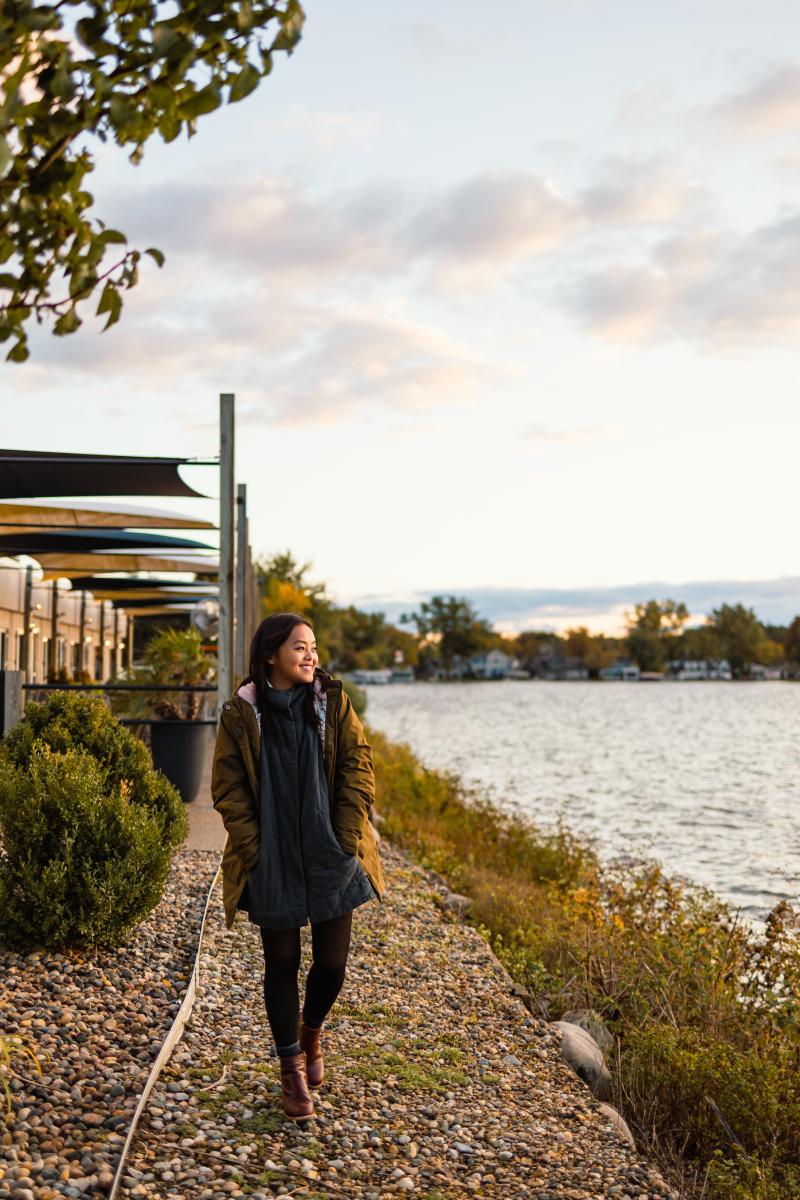 For dinner, we went to Cove Lakeside Bistro, which is about 20 minutes south of downtown Kalamazoo. This restaurant sits right in between two lakes and offers a beautiful lakeside experience. They specialize in seafood, and you cannot miss the Clam Chowder!
WATER STREET COFFEE
The next morning, we stopped in at Water Street Coffee Joint on Oakland Drive. It is clear this is a well-loved coffee shop, as it was bustling with visitors! We really enjoyed their coffee and the great vibe on the patio.
Must-Do Activities
Whether you are in downtown Kalamazoo or in the surrounding rural area, there are a ton of fun activities for everyone!
FARM FUN
We visited 3 farms, all offering unique experiences!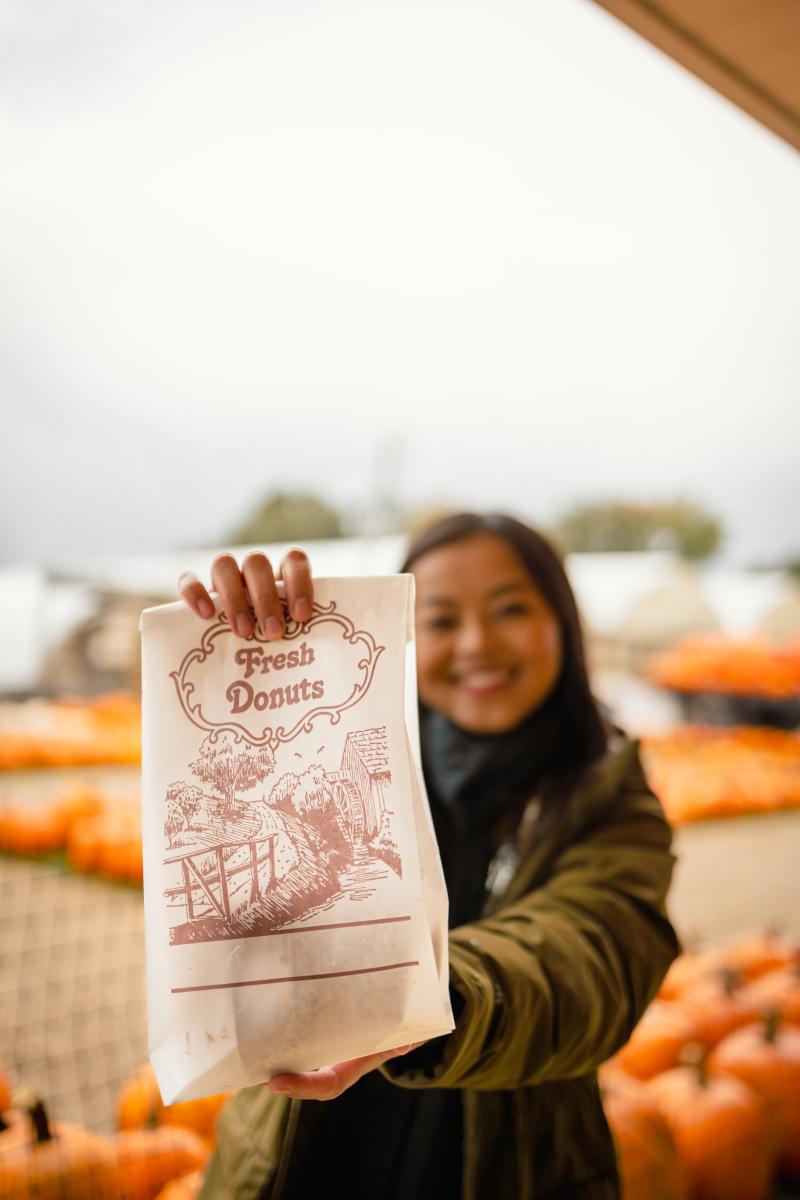 Gull Meadow Farms is well-equipped with many fun farm attractions during the fall season, including roasting s'mores, picking apples in the orchard, ziplining, petting goats, and even shooting the apple cannon! They also offer delicious donuts, apple cider, and freshly baked treats from their bakery.
Husted Farm Market is an absolute gem! We loved picking all types of delicious apples and really enjoyed the fresh produce they offered. We went back to Chicago with a lot of fresh local produce at a very affordable price!
VerHage Fruit Farm and Cider Mill is a great place to visit with the entire family. It was quite the experience seeing the cider mill in action and trying the delicious samples! There are several fun activities for the young ones, and they have a fantastic farm market and bakery. We bought a few different types of donuts, all of which were incredible!
KELLOGG BIRD SANCTUARY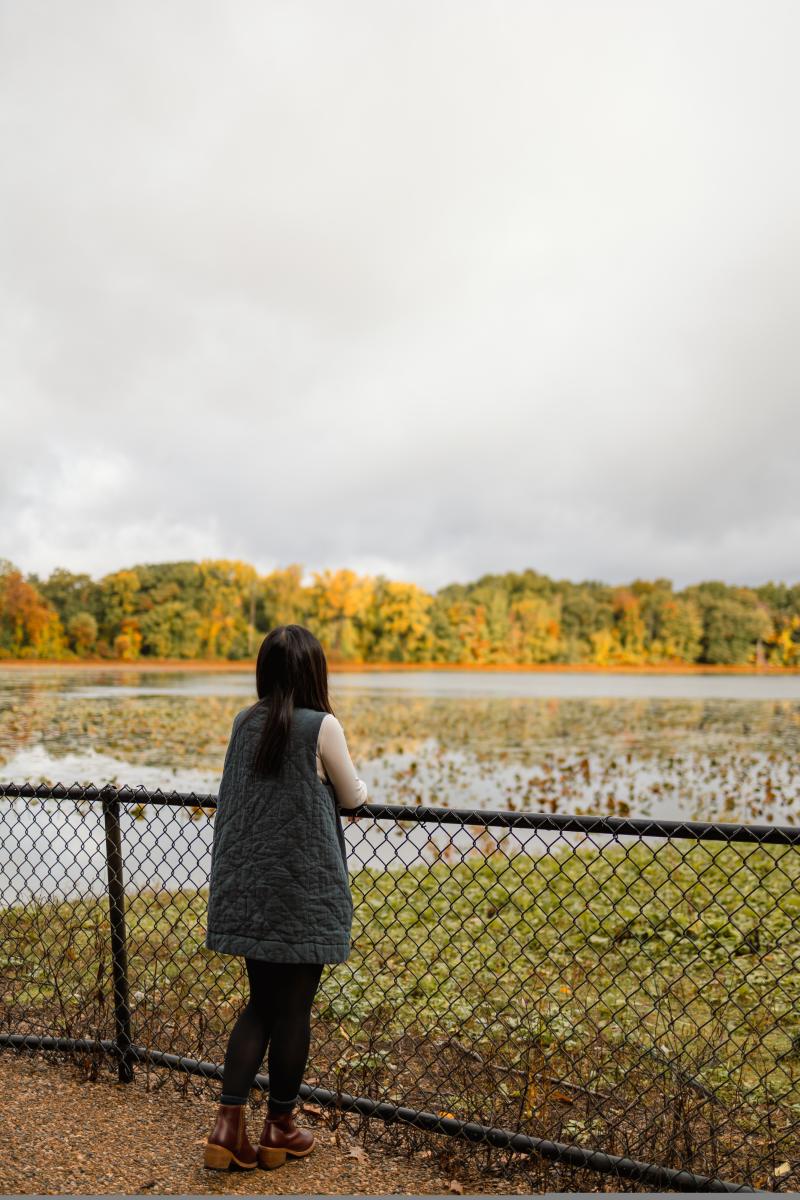 For some more outdoor fun, we recommend stopping by the Kellogg Bird Sanctuary, which offers 180 acres of wildlife habitat around Wintergreen Lake. We loved walking around the lake, watching the different types of birds, feeding the waterfowl, and seeing caged birds of prey up close.
KALAMAZOO MALL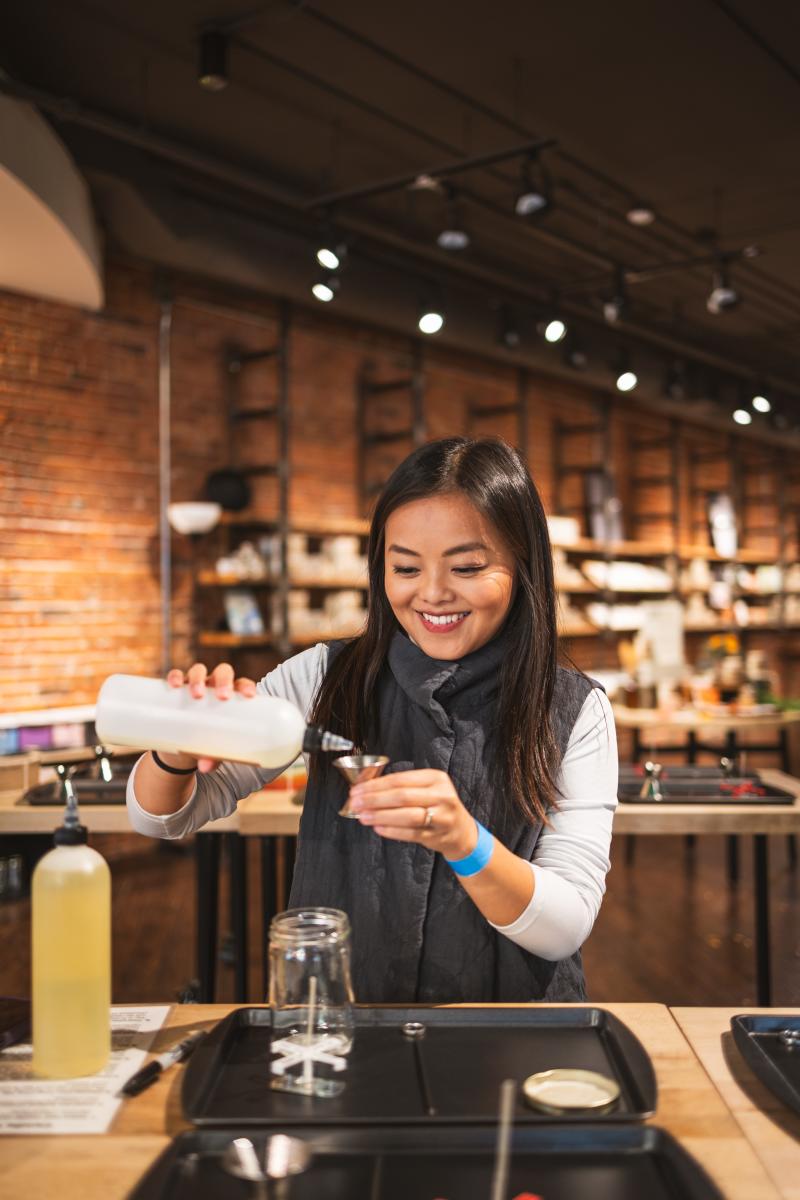 Downtown Kalamazoo has a lot to offer with many cute shops! We popped into Kalamazoo Candle Company to make our very own candles. The experience was a lot of fun, from mixing our scents, pouring the wax, placing the wick, and naming our creation. We also stopped in at The Aroma Labs and made our own scent! The entire process was very well-instructed and streamlined!
LOCAL EVENTS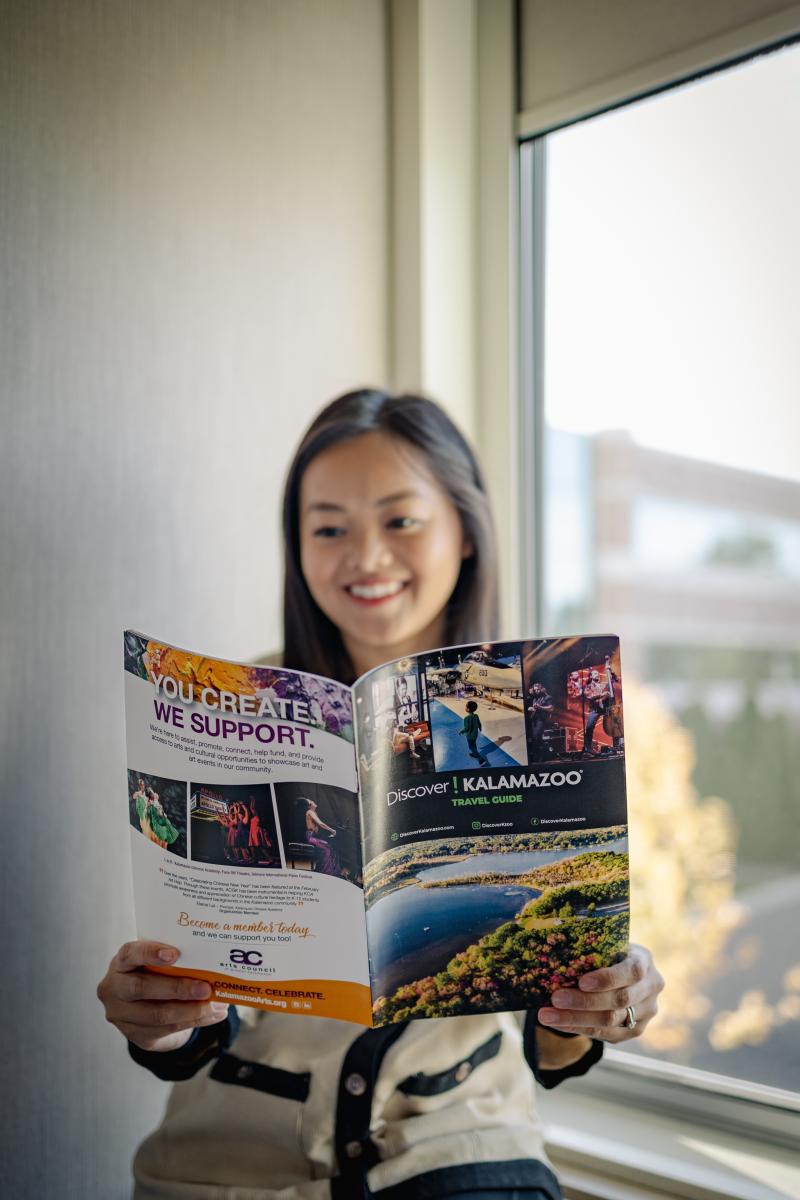 We attended a local festival that we found on @discoverkzoo, which had live music, food stalls, and many artisan stands. Make sure to follow @discoverkzoo to stay plugged into upcoming events, or check out the events calendar.
We absolutely loved our time in Kalamazoo! With so many activities to choose from, great food to enjoy, and fantastic local shops to visit, Kalamazoo is a fantastic weekend getaway destination!